Snow Update for Ski Fans.
DECEMBER 24, 2014 • NEWS LOGDEN LODGE
Snow is a little slow this year, but last night we were treated to a fresh pack.
Beside Whitewater Ski Resort, the opening days of other Ski Hills in the close vicinity were delayed. RED Mountain Resort in Rossland has its official opening today. Salmo Ski Hill is still closed.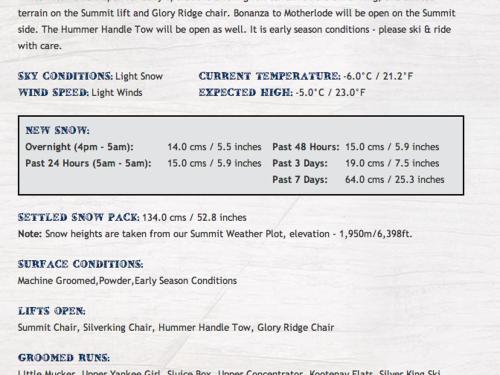 Update Whitewater Ski Resort at 7.30 am:
"Plenty of pow out there... Come and get it!
Open regular hours on Dec. 24th and 11-3 on Christmas Day. The Silver King and Summit chairs will both be open Christmas Day, Glory will be closed."
For snow updates, please visit Whitewater website for regular reports.
Header photo & snow report image by Whitewater Ski Resort.
Update Salmo Ski Hill, Dec 23rd at 7.30 pm.
"Salmo Ski Hill is patiently waiting for the temperature to drop and change the rain into snow. Follow the Salmo Ski Hill Facebook page for updates on opening day."
Happy Skiing!