Logden Lodge Ski Packages 2018-19
Photo courtesy Stellar Heliskiing

Logden Lodge is excited to once again offer five different package deals this season, facilitated by some of the most trusted and experienced winter sports operators in the region.
Each offers a unique Kootenay mountain experience, both on and off the slopes. And last but not least, each comes with a generous mark-down compared to standard rates, so you know you get the best bargain for whatever it is you choose to do.
As the closest hotel accommodation to Whitewater Ski Resort, our local hill is naturally included and our first two packages, "Ski & Stay" and "Ski & Tour", both include one or more full-day lift tickets to enjoy Whitewater's renowned snow pack, beginner-to-double-black-diamond rated descents and its laid-back atmosphere.
But the fun doesn't stop here. Because our Kootenay backcountry has a well-deserved reputation of offering some of the best powder skiing to be had anywhere.
Recognizing that heading out there by oneself is not for everyone, we teamed up with the experts to get you the access and professional guidance you need.
Our trusted partners Summit Mountain Guides in Nelson, Valhalla Powdercats in South Slocan and Stellar Heliskiing in Kaslo offer you the broadest possible range of options to safely explore the mountain wilderness and ski some of BC's most exhilirating backcountry terrain.
Follow the links at the top of this page to check out each package' full details and find the one you fancy most!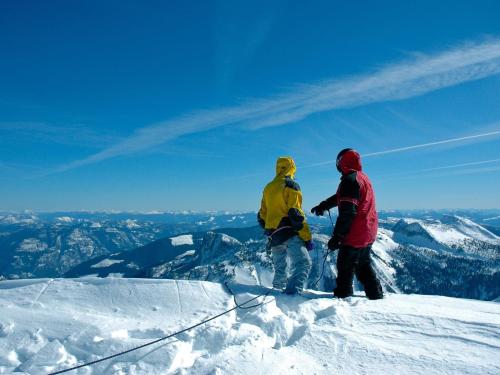 Lastly we should not leave unmentioned of course that although this year's packages cater primarily to our skiing guests, those who wish to enjoy the winter landscape by different means have plenty to choose from as well, all of which can be found nearby:
Snow shoeing, cross-country, dogsledding, ice fishing, ice climbing, paragliding, ice skating, snowmobiling and more. Interested? Please don't hesitate to ask, we're happy to point you in the right direction and make some pre-arrangements for you where needed.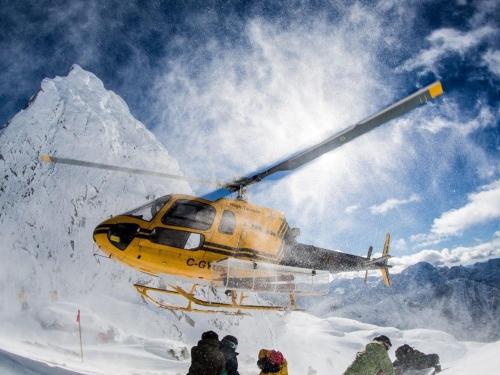 left: photo courtesy Stellar Heliskiing
right: photo courtesy Valhalla Powdercats
If you have any questions, special requests or like to book right away (of course you do!), please contact us by using below form or get in touch directly at: info@logdenlodge.com / tel: (+1) 250 357 9290