Happy New Year!
It was a great year, let's have another! HAPPY 2015!
DECEMBER 31, 2014 • NEWS LOGDEN LODGE • BY ANNELIES ELLERMAN
2014 has been an amazing year for us in so many different ways.
Right from day one, together with a great team, things were in full swing building our four cabins & infrastructure and battling the extreme low temperatures & mountains of snow. Seeing our four cabins grow into exactly that what we had envisioned.
In May the crew moved out. Still quite a few things to be done (aren't there ever?) - together we enjoyed doing the finishing touches, furnishing, decorating the cabins. Adding colours to the all wood, they truly became the cozy hideaways we were after for our future guests.
And finally then, the great day: on 8 July we could welcome our first, all the way from Afghanistan. A father traveling with his Canadian son moved into Elise Cabin & cooked us an amazing meal. Someone is using the kitchen, sitting on the couch busy on his laptop, enjoying a glass of wine…. from a building project the cabin transformed into an actual place of living. Of course we couldn't stop ourselves making sure everything was working properly that night…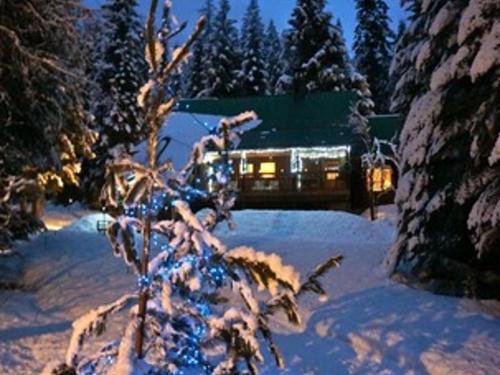 Our first winter season, and our first New Year with a full house as Logden Lodge. Guests enjoying themselves, building a snowman, having friends over for drinks, skiing our foot trails, getting back after a great powder day in the backcountry, happy to return after a exhilarating day in the white outdoors to enjoy a cozy evening with food, wine and great company.
It is an incredible experience to see our guests enjoy our Lodge, each in their own way.
And last but definitely not least, on 11 December we got engaged.
YES 2014 has been an amazing year for us. Let's have another!
We Wish You & Yours a Wonderful and Healthy 2015
and we hope to Welcome you in the New Year!
Paul & Annelies