If you're looking for some serious backcountry powder skiing with plenty of vertical, you definitely want to consider the Snowcat to get you out there. In an exclusive partnership with Valhalla Powdercats now running for its second season, we are able to offer you an all-round package that combines big mountain skiing & riding with luxury mountain living.
Located deep in the Selkirk mountains, Valhalla Powdercats offers a truly exceptional terrain six times the size of Whistler and Blackcomb combined. With 40ft of some of the lightest most consistent powder covering a varied mix of alpine bowls, pillow fields and old growth tree runs, you'll be sure to enjoy a one-of-a-kind backcountry experience. There are only two snowcats sharing over 21,000 acres of terrain so an entire day of untracked powder is practically guaranteed.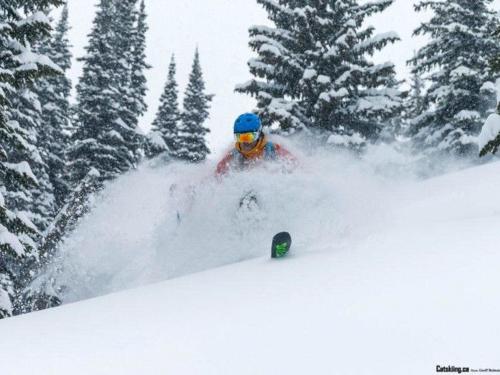 Total Package Rate Per Person Season 2017-'18:
High Season:
2 persons: $845
3 persons: $780
4 persons: $750
5 persons: $730
6 persons: $780*
Early & Late Season:
2 persons: $750
3 persons: $685
4 persons: $655
5 persons: $635
6 persons: $685*
* Based on 2 cabin accommodation
Includes:
- 1 full day cat skiing & Backcountry safety backpack
- 2 nights accommodation in a luxury cabin
- All day snacks & lunch
Early Season: Dec 26 - Jan 15. High Season: Jan 16 - March 15. Late Season: March 16 - April 4
Although prior cat-skiing experience is not a requirement, guests must possess at a minimum advanced skiing skills to book this package (previous powder experience and able to ski black runs under any condition with confidence and ease).
Package can be combined with other packages and/or additional nights.
The small print:
- Full package price is due at the time of booking
- All bookings are subject to Logden Lodge and Valhalla Powdercats booking and cancellation policies. No exceptions can be made on aforementioned policies, terms & conditions.
- Transport to and from Catski staging area (South Slocan) not included
- All prices exclusive of tax (13% accommodation tax, 5% catskiing) and gratuities.
- Guest are strongly advised to take out appropriate travel and medical insurance.
For questions or bookings, kindly submit below form or contact us directly at
info@logdenlodge.com or +1 250 357 9290