Four "rustic" luxury cabins
Living in Canada we have quickly come to realize that "rustic" can mean very different things, ranging from the unsophisticated, plain and unrefined; to rural, country and old chic.
Risking that our guests might get the wrong idea and think they will be renting a wooden shack in stead of a luxury cabin we went with the word "rustic" anyway. Because how else could we describe our cabins, which despite their modern comforts will leave you with the feeling of being swept away from it all?
Each cabin has been designed differently from the inside out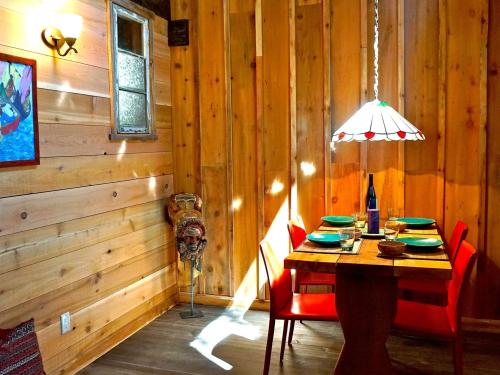 Our cabins are richly and comfortably furnished. Step into each of them and you will appreciate a unique experience behind every door. To create a cozy, warm and special atmosphere each cabin has been designed differently from the inside out.
You are surrounded by cedar, fir, hemlock and white pine, some old, some new, some reclaimed. The white pine was left untreated with its particularly beautiful natural grain to age on its own over the years to come. The other woods have been left natural or treated with the natural product "Lifetime". We playfully but carefully combined different styles of board and batten, tongue and groove, plain and bevelled boards, as a finishing touch some metal was added in two different colours.
"Living the Nature of Things"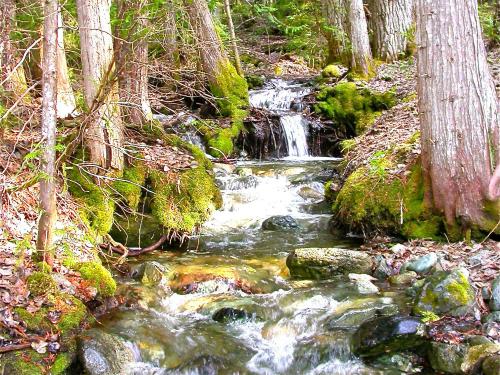 "Living the Nature of Things"
Guided by our motto "living the nature of things" all four cabins are nestled in their own private and natural surroundings, giving each cabin its own unique and distinctive feel. The natural enclosure of the forest, the pristine year-round Elise Creek and the breathtaking views of the mountains all helped shape the location and lay-out of each individual cabin.
All the beauty nature has to offer awaits you. From your cabin you have direct access to a boundless expanse of neighboring crown land with unexploited wilderness to create your next adventure.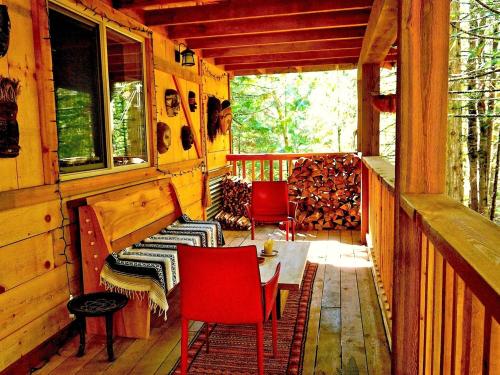 "Fabulous Cabins"
"Annelies and Paul have created a luxurious retreat amidst pristine nature, close to all kinds of outdoor activities year round. Just a short drive to Ymir, Nelson, Kootenay Lake, Whitewater resort and all the other great places in the Kootenays. I have seen it being built and am really impressed with how tastefully the cabins are designed and decorated. They did a great job and I am sure a stay at Logden Lodge will be a highlight of your holiday."