630 cm and more on the way.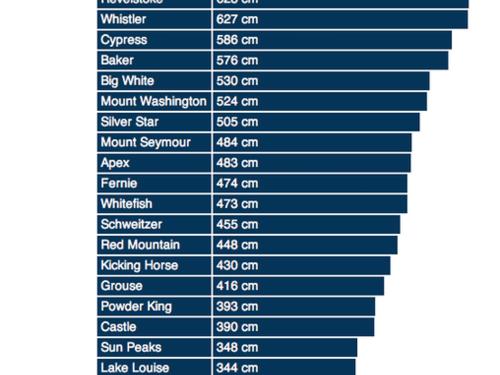 JANUARY 22, 2016 • NEWS LOGDEN LODGE
Desperately seeking the snow? Well... it is right here in our Valley.
The snow is piling up and more is in the forecast. Even better, lately Whitewater Ski Resort, which is located in the proximity of our Lodge and thus in the same Valley, is registered as having the most snow fall this year.
The great news is that this year we have this amazing package with our partner Whitewater Ski Resort; Ski & Stay. As the closest hotel accommodation to the resort you'll be sure to hit the slopes before anyone else and your lift pass is already waiting for you in your spacious private cabin.
Would you like to keep track of the snow? We recommend the Snow reports (as the image on the right) by SnowSeekers.
The location of our Lodge, especially during the winter months is just unique.
Just 20 minutes drive away we are the closest accommodation to beautiful Whitewater Ski Resort, the area's still hidden treasure with over 12 meters (40 feet) of light, dry, powder snow every season beneath the majestic Ymir Peak and at its turnoff, the Nelson Nordic Ski Club with over 25 kilometers of trails rated beginner to expert with lights for night skiing.
An even shorter drive to the South Salmo Ski-Hill (www.skisalmo.com) is "famous for great night skiing on fully lit runs that are groomed to perfection". To the South-West RED Mountain Resort in Rossland, 4200 skiable acres is just one of its impressive numbers, is a mere 40 minutes away.
Not to mention the backcountry..... Come and explore Canada's hidden treasure.