#TBT Winter Packages
NOVEMBER 10, 2016 • NEWS LOGDEN LODGE
They say "the sky's the limit", we at Logden Lodge go by unlimited; Unlimited Privacy and Unlimited Adventures.
We created our Lodge in 2013, opened our blue cabin doors in 2014 and offered five fantastic new Ski Packages in 2015. #TBT to 2015, we were not only a little excited we were proud too frankly, that we could offer packages facilitated by some of the most trusted and experienced winter sports operators in the region.
As we are dotting the i's and crossing the t's, we'd like to give you a sneak peek of what kind of packages we offer. And if you are as excited about them as we are, please do not hesitate to contact us!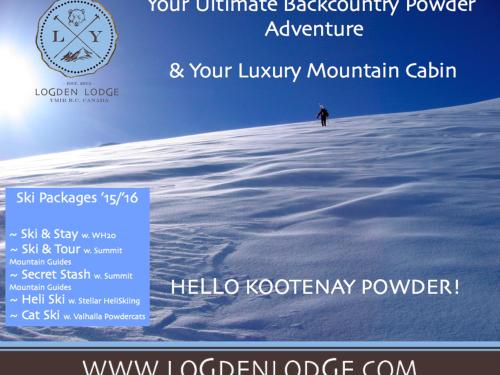 2016/17 PACKAGES are COMING SOON!
Ski & Stay
Book a Cabin & Whitewater lift ticket all in one, and save!
Combining Logden Lodge's luxury accommodation with Whitewater's powder pillows - just to prove you don't always have to strike it rich to enjoy the good things in life…
Ski & Tour
Blending the Alpine and the Wilderness into one!
Ever found yourself comfortably seated in that chairlift staring at these neat turn tracks in the distance and unable to choose between the slopes and the deeps?
Secret Stash
Go wild, Go deep!
Our Kootenays is a cold-smoke playground, accessible to all but fully explored by only the few. When you get out there, you'll be far away from the crowds and won't have to look far to find some pristine powder waiting for you to set your tracks.
Heli Ski
Your Ultimate Backcountry Powder Adventure!
There is a reason why the Kootenays is home to arguably the largest concentration of cat and heli ski operations in the world: Easy access, phenomenal terrain...and tons of the driest and fluffiest powder anywhere. And we are in the middle of it!
Cat Ski
21,000 acres of powder bliss!
If you're looking for some serious backcountry powder skiing with plenty of vertical, you definitely want to consider the Snowcat to get you out there.
... And more... Snow shoeing, cross-country, dogsledding, ice fishing, ice climbing, paragliding, ice skating, snowmobiling, sledding. Interested?
Other blogs you might like:
Why you'll want to explore the area on snowshoes
How to Beat the Traffic to Whitewater Ski Resort