Yes, It Is Snowing Again!
NOVEMBER 2, 2016 • NEWS LOGDEN LODGE
As the closest hotel accommodation to Whitewater Ski Resort and located in the same valley, we keep a close look at how much snow the resort is getting. Like last winter and the winter before WH2O is doing especially well.
Last winter it reached to a point that the Most Snow was actually in our valley. And... on November 6th, 2015 total snowfall was 74 cm, today November 2nd it is already 145 cm...
In Winter, Logden Lodge's location is especially unique.
As we are perfectly situated between two amazing resorts; Whitewater Ski Resort and Red Mountain we keep an eye on both. RED is also getting its fair amount, 20 cm in the last 48 hours.
As for backcountry skiing, Kootenay Pass is especially popular. That rough mountain terrain is getting a nice layer of that famous champagne powder as well.
~~~~~~~~~~~~~~
All above data originates from the website Snowseekers.ca, which is a great source. It is all in the name: it seeks the snow…. and not only here but it keeps track of all the resorts in Canada.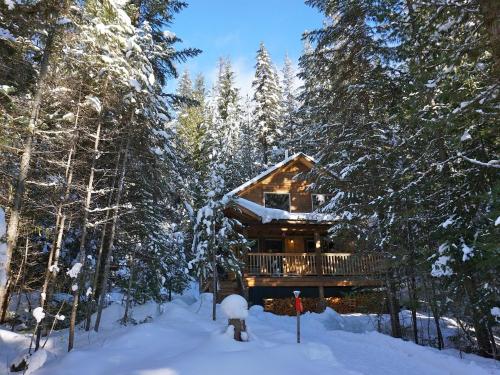 Photo's of our woodhouse (22 Feb. 2014) and the Gold Cup Cabin (1 Jan. 2016)