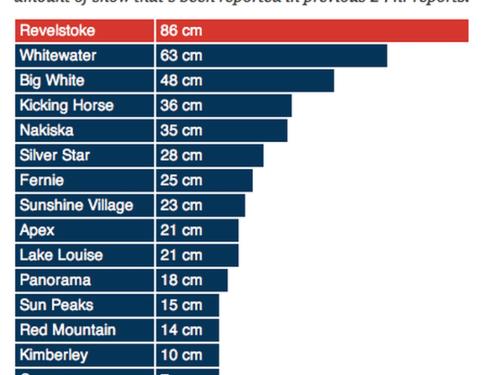 How is the snow?
NOVEMBER 6, 2015 • NEWS LOGDEN LODGE
With winter approaching you are probably wondering where to ski this year.
Ski Resorts in BC are getting a fair amount of snowfall and just like last year Whitewater Ski Resort is doing especially well with 63 cm in the last 7 days bringing the total of snowfall to 74 cm.
Whitewater is the 2nd on the list of highest snowfall in BC & 3rd in Canada.
Would you like to keep track of the snow? We recommend the Snow reports (as the image on the right) by SnowSeekers.
Opening dates of the Resorts closest to our Lodge:
Whitewater Ski Resort: December 5th
RED Mountain Resort: December 12th
In Winter, Logden Lodge's location is especially unique.
The location of our Lodge, especially during the winter months is just unique. Perfectly located and along the famous "Powder Highway"Logden Lodge is close to Ski resorts and amazing backcountry entry points.
Just 20 minutes drive North we are the closest hotel accommodation to beautiful Whitewater Ski Resort, the area's still hidden treasure with over 12 meters (40 feet) of light, dry, powder snow every season beneath the majestic Ymir Peak and at its turnoff, the Nelson Nordic Ski Club with over 25 kilometers of trails rated beginner to expert with lights for night skiing. To the South-West RED Mountain Resort in Rossland, 4200 skiable acres is just one of its impressive numbers, is a mere 40 minutes away.
Header photo of our main building taken Jan. 2013.